10 tips on how to prepare for your EUVP visit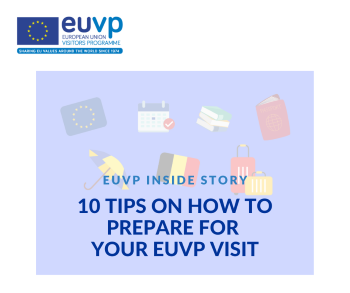 Congratulations! As a young promising leader, you have been selected to come to the heart of the European Union and get to know its functioning, policies and values inside out! Wondering what to expect from the EUVP programme and how to best prepare for your visit? Have a look at our tips below.
The EUVP Team will contact you to propose a date for your visit. You will usually arrive on a Sunday – the day before your programme begins – and leave the following Saturday. Your meetings will take place over 5 working days in Brussels or, optionally, in Strasbourg during the Parliament's plenary session or in Luxembourg in case you have particular interest of visiting the EU Institutions located there.
We will take care and cover the cost of your travel, accommodation, subsistence allowance and health and accident insurance during the programme so no need to worry about all the logistical hassle! Everything will be prepared for you with one exception which is…
Your visa. Please check with the Belgian Embassy in your country whether you need a visa to enter the EU. In case you were selected to participate in the European Parliament's plenary session in Strasbourg, check also whether you need to take any additional actions regarding travelling to France. Getting your visa issued might take quite a long time at times – please make sure to apply early enough! We will reimburse you the visa costs
Make sure that the documents used during the application process (your CV and Statement of Purpose) are still up to date and send them to your Programme Organiser. This is crucial as your programme will be tailor-made according to these two.
Refresh your knowledge about the EU. This will help you make the most out of your visit as you will be able to enter in-depth discussions right from the beginning of your experience. Have a look at the EU in brief and get familiar with the EU's activities in your fields of interest.
A few days before the start of your visit, the EUVP will send you tailor-made, personalised programme of meetings that have been scheduled for you comprising both individual meetings and joint meetings and activities with fellow EUVP participants. The joint meetings and activities will be organised on the basis of the visitors' geographic proximity or thematic interests. The programme will also contain the logistical information needed to reach the hotel from the airport and other useful tips. Take time to read it and do not hesitate to contact the organiser of your programme in case of any doubts. You will get the paper copy of the programme inside your welcome kit awaiting you in the hotel.
Make sure to check the weather forecast. You should know that your meetings in Brussels will take place in different buildings and you might expect a fair amount of walking or (occasionally) using the public transport to arrive at your appointments. Since rain and cold weather are no strangers to Belgium, bring along thick soled shoes, and if needed, warm clothing and a raincoat. You can check the forecast here.
If you do not have roaming function active (or in case the costs of it are scary), please get a Belgian SIM-card upon your arrival. In your programme draft, we will indicate to you where to purchase it at the airport. This will be much helpful, as you need to be constantly reachable by our team and you might also make a good use of a map app, in case you feel that reading paper maps is not among your best skills. While the EUVP Team will do its best to facilitate your visit, it might not always be possible to accompany you to your meetings. That is an additional reason why access to a roaming function on your mobile devices is essential and strongly recommended.
Did you know that the land famous for its chocolates, waffles, beers and fries is not only home to the EU institutions and NATO, but also to the Smurfs and Tintin? Your evenings will be free and Brussels is a beautiful, vibrant city with many interesting places to see. Prepare yourself on how to make the best of your free time here.
Relax as the organiser of your programme and the EUVP Team will be accompanying you through this experience and we will make sure your visit goes as smoothly as possible! We are looking forward to meeting you and welcoming you to the EU institutions!