EUVP Visit Story - Dale Medearis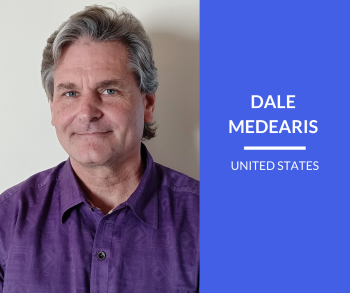 Unprecedented global challenges such as climate change, public health pandemics, social inclusion, public safety, economic development, immigration, infrastructure revitalization and education have moved cities and other sub-national governments to the center of relations between the U.S. and Europe.  The reasons are clear.  The scale of the issues and the imperative to act exceed the scope of national governments to operate alone.
With greater regularity, towns, cities and counties in the U.S. are trying to engage globally.  As they plan to work with counterparts abroad, they realize the necessity of purposeful, strategic and outcome-oriented engagement.  Gone are the days when international work at the local level could be done in contexts that did not support the work of a U.S. city manager, school superintendent, wastewater treatment engineer, renewable energy technician, watershed restoration NGO, nurse, or social worker.  Global engagement by U.S. cities is evolving rapidly out of necessity to meet the needs of Main Street.
As the U.S. and Europe look to support more local-level exchanges, the EU Visitors Program can be an important tool – especially for helping introduce U.S. local governments to the rich galaxy of policy and technical innovations deployed in cities such as Stuttgart, Hamburg and Copenhagen.  This was my experience as an EUVP Participant in 2004.
At the time of my visit as an EUVP Participant, I was working as a program officer at the U.S. Environmental Protection Agency's Office of International Affairs where I helped to oversee work with western Europe and urban sustainability initiatives.  In the spring of 2004, I spent a week in Brussels meeting with EU technical and policy experts involved with not only the environmental, but also the social and economic aspects or urbanization across Europe.  Then, as now, many European cities were at the cutting-edge of implementing energy efficient labelling programs, large-scale "green" urban regeneration programs, climate resilient infrastructure and innovative mobility programs.  The time spent in Brussels helped me network more formally with urban sustainability counterparts across the EU and turn to share expertise and knowledge with equivalent programs and experts in the U.S.
Subsequent to my return from Europe, I moved "up" from the federal to the local level and helped establish a unique global engagement program at the Northern Virginia Regional Commission (NVRC). The NVRC is a regional council of governments representing the 2.5 million people, 13 cities, counties, and towns of Northern Virginia.  For years, NVRC has pioneered a unique model of global engagement for local governments with potential lessons for the rest of the United States. NVRC's international programs emphasize the transfer and application of policy and technical innovations from cities in Europe to Northern Virginia, with economic, environmental, and social outcomes to the region. NVRC's global programs prioritize engagement with international policy and technological pioneers connected to Northern Virginia through investment, trade, and tourism.  NVRC strategically partners, whenever possible, with Northern Virginia's commercial, academic, scientific, research, and civil society institutions to support the purposeful transfer and practical application of innovations from abroad.
Among the very first international projects NVRC undertook was in 2008, when NVRC helped lead the development of "First U.S.-European Conference of Metropolitan Regional Areas".  The conference brought together regional leaders from U.S. and European metropolitan regions to share and exchange innovative regional climate and energy programs from both continents. The conference also promoted the development of more formal mechanisms for the exchange and application of innovative climate and energy conservation programs between the U.S. and Europe. Finally, the conference highlighted the mutual environmental and economic benefits that could be realized by U.S. and European metropolitan regions through long-term cooperation and learning.
For years, NVRC's global engagement strategy has reaped dividends for Northern Virginia.  Energy and climate mitigation plans, watershed restoration strategies and mobility improvements in Northern Virginia have been informed and strengthened through NVRC's cooperation with cities and regions such as Stuttgart, Hamburg and Copenhagen.  Moreover, NVRC's emphasis on the transfer of innovations from abroad that benefit Northern Virginia has led to a stronger appreciation for international work at the local level with potential for replication across the Commonwealth of Virginia and the United States.
Looking ahead, the EUVP program can be a very useful means to support purposeful transfers of lessons from Europe to U.S. counterparts at the local level, particularly Northern Virginia. This is especially the case in the context of current foreign policy initiatives such as the "Foreign Policy for the Middle Class".
The NVRC model of strategic global engagement suits the current and evolving international programs in other metropolitan regions across the U.S.  Most small, medium and large metropolitan regions of the U.S. have many international qualities that mirror Northern Virginia.  These regions actively pursue foreign trade and investment, possess globally-connected research, commercial, science, and civil society partners.  EUVP programs in this context can draw from cities eager to learn from European counterparts and apply those lessons on "green" infrastructure, renewable energy, workforce training. Cooperative/social housing, public health and even memorialization of racial injustice.