EUVP Visit Story - Luiza Ergesheva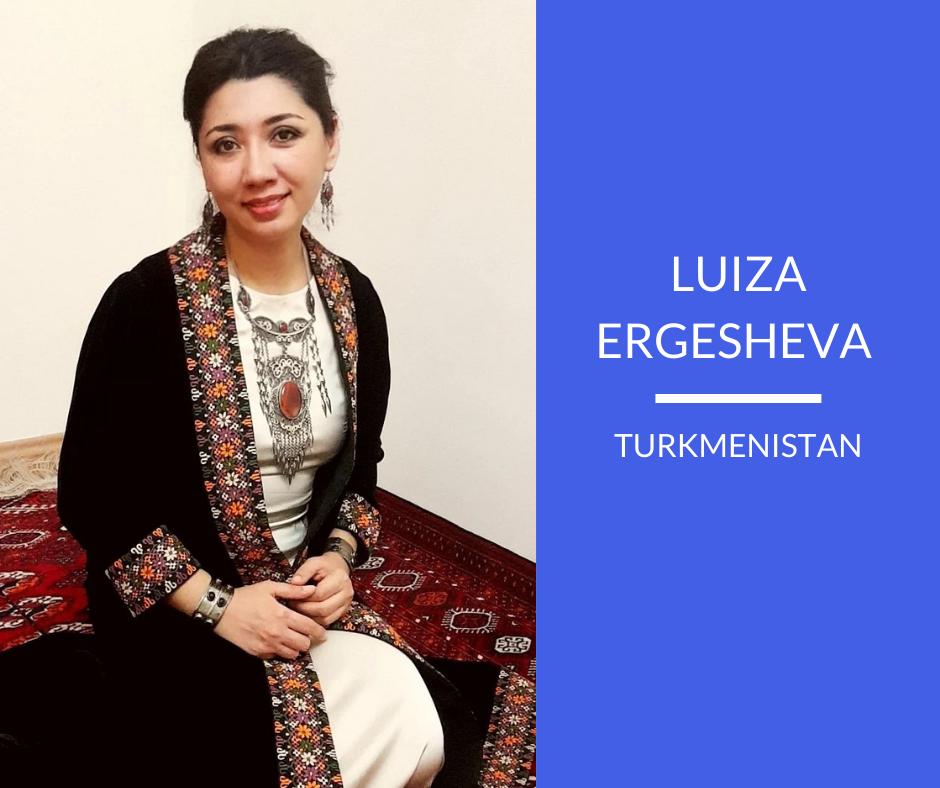 Are you considering applying for a EUVP visit? Ever wondered how EUVP programmes are organised and what their outcomes are? Follow the "EUVP visit stories", featuring unique reports and testimonials from those who have joined us at the heart of the EU!
By the time of my participation in the European Union Visitor Programme, I have been engaged in EU programmes in Turkmenistan for more than five years. Working as an assistant for the EU funded technical assistance projects in Turkmenistan, I have noted the effectiveness of exchanging expertise between countries and significant role of the EU technical support for the development of the various sectors of our economy, including agriculture, education, and trade. Together with the EU and national institutions we provided Turkmenistan with a key thrust for an inclusive and sustainable economic development through the implementation of targeted programmes. 
Knowing how the national development mechanism works in Turkmenistan, I applied for participation in the European Union Visitor Programme to learn more about European Union, particularly about international trade, development programmes, the EU main institutions and policies, and how those are functioning to boost Europe economy through businesses and trade support and then to apply gained knowledge for the improvement of the work I am involved in. My EUVP study tour focused on four themes – removing obstacles to trade, enhancing services to SMEs, entrepreneurship and empowerment of women. Although it was virtual, it was a still interesting two-week journey to the European Union. 
I had a unique opportunity to e-meet representatives from the various EU Institutions: EU Commission, EU External Action Service and European Economic and Social Committee. I have learned much more about the EU, its values, functioning, activities, policies and perspectives. The European Union Visitor Programme gave me an opportunity to discuss with interlocutors about which EU policies and procedures are functioning for the development of the EU internal market and external economic relations, how the EU customs operate to support the EU companies in international trade, the programmes that are applied to support business development and operate to help SMEs, entrepreneurship and empowering women to participate in international trade. 
Meetings with the EU officials responsible for relations with Central Asian countries and particularly with Turkmenistan gave me a good opportunity to discuss the economic situation in Turkmenistan, the government's framework for trade support, cooperation between countries and strategy on connecting Europe and Turkmenistan and also to highlight the importance of the EU's support to Turkmenistan via its regional and country programmes aimed at the development of the country. I have learned about and found very interesting and useful COSME programme, which aims to promote entrepreneurship and improve the business environment for European SMEs, different platforms such as YourEurope, which serves as a guide for doing business, Entrepreneurship Education Network, WEgate for women entrepreneurs, exchange programmes such as Erasmus for Young Entrepreneurs and many others. Besides, the interlocutors shared with me information about the EU Customs Union, how it functions to support trade flows and  its role in economic development in Europe and they gave me an understanding of a new VAT e-commerce legislation. Being inspired by informative and interesting meetings and equipped with a new knowledge, I came up with insights on how we can further design and improve our project activities by applying the EU practice for the development of the trade sector here in Turkmenistan.
Moreover, taking into account the fact that the global pandemic situation has affected countries all over the world and impacted economies, we need to continue doing our best to adapt to the current difficult conditions and recover our economies. I want to highlight the usefulness of all these online platforms, which have, in these difficult times of the world economic crisis, become an optimal solution to maintain communication between various sectors of economy and help different countries to trade. As a result of my EUVP participation and in the framework of the EU funded Ready4Trade Project in Turkmenistan, where I am currently employed, we focus on the development of the trade sector in Turkmenistan by implementing of the following activities:
Diversify Turkmenistan's market through e-commerce by developing online learning platform that introduces Turkmen entrepreneurs to various opportunities and teaches to overcome challenges faced by SMEs with a particular focus on new technologies and financing schemes. It will help Turkmen SMEs to be better equipped in addressing the challenges in the context of the global pandemic and economic crises and adapt to the growing digitalization of economies.
Increase the overall competitiveness of Turkmen SMEs in the global market through establishing of a new Virtual Learning Space adapted to the needs of Turkmen MSMEs and that covers international trade-related topics including, Incoterms, logistics, certification, packaging, labelling, international quality standards and etc.
Launch of the Trade Facilitation Portal that includes information on export and import, cross-border laws, regulations, duties and taxes to facilitate access for traders to cross-border trade related procedures for their products.
 
Besides, many other activities are foreseen to increase opportunities for SMEs, including women entrepreneurs to participate in international trade.  
Once again, I want to express my deep gratitude to the EUVP programme, its organizers and the EU Delegation to Turkmenistan for their dedicated work and for this unique opportunity to participate in the programme.
 
If you would like to follow the path of Ms Luiza Ergesheva and become an EUVP participant, please contact the EU Delegation in your country to express interest.