EUVP Visit Story - Tatjana Telić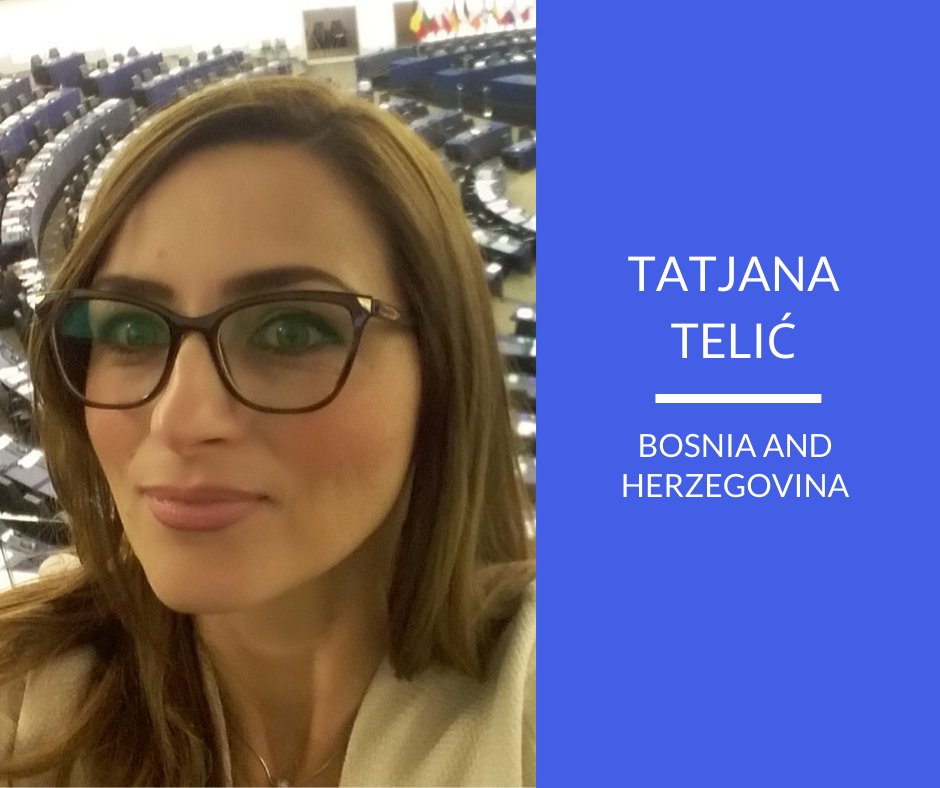 Are you considering applying for a EUVP visit? Ever wondered how EUVP programmes are organised and what their outcomes are? Follow the "EUVP visit stories", featuring unique reports and testimonials from those who have joined us at the heart of the EU!
This visit story comes from Bosnia and Herzegovina and it is a great example of how continuous engagement efforts following EUVP activities of its distinguished Alumni can help direct a successful individual career path while also supporting a country's progress on the path to EU membership. 
During her EUVP visit in 2018, Ms Tatjana Telić was Head of Department for International Cooperation within the Ministry of Interior of the Republic of Srpska, which represents half of the territory of Bosnia and Herzegovina.  Ms Telić's was tasked at the time with coordinating activities with international bodies for the entire Police structure and cooperating with international partners on security issues, both strategically and on a diplomatic level. Her goals included building institutional capacity, exchanging good practices and improving security overall. 
Ms Telić's visit was an integral part of the implementation of her country's long-term strategic priority of the EU accession. Both the EUVP mission and Ms Telić's work focus on promoting common EU values and strengthening bilateral relations and they constituted the pillars of how her study tour was organised. 
After a general introduction to EU Institutions in Brussels on the first  day of her visit, Ms Telić travelled to Strasbourg in France to meet Members of the European Parliament, during  Parliament's plenary session there. During her three busy days in Strasbourg, Ms Telić met with seven MEPs, most of whom were Members (including one Vice-Chair) of the Parliament's Delegation for relations with Bosnia and Herzegovina and Kosovo, and also Members in different Committees: on Foreign Affairs, Human Rights, Civil Liberties, Justice & Home Affairs, Regional Development and the Special Committee on Terrorism. Throughout the entire visit, our EUVP notable guest had the opportunity to encounter representatives of the European Commission and the European External Action Service with whom she discussed several topics of her interests, such as security & defense, migration, public relations, home affairs and EU external policies. 
As EUVP seeks to cultivate long-lasting relationships between visitors and their European colleagues, we recently reached out to Ms Telić to enquire about the impact of her visit over years and in the context of the current global pandemic. We were happy to hear that the EUVP experience has contributed to further advance her career, adding European Integration Unit to her portfolio. 
''My visit contributed to a better understanding of EU functioning and helped me in performing my regular duties. I am now familiar with the different EU Institutions and can easily initiate contact when needed. I strongly recommend EUVP to my colleagues and associates and I am looking forward to the end of the pandemic so we can have such visits again and benefit from direct contact and communication.''
We wish Ms Telić outmost success in her career and future projects! We are honoured that the EUVP has contributed by this study tour to her country's continuous progress towards European integration and we look forward to further cooperation with guests from Bosnia and Herzegovina. 
If you would like to follow the path of Ms Tatjana Telic and become an EUVP participant, please contact the EU Delegation in your country to express interest.