Welcome message from Mr Othmar Karas First Vice-President of the European Parliament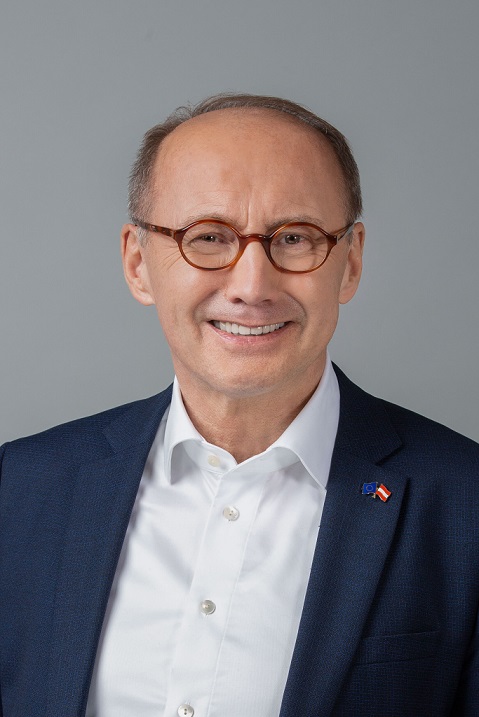 Welcome to the European Union Visitors Programme, the EU's flagship, strategic, people-to-people diplomacy initiative. As the First Vice President of the European Parliament, I provide, together with Mr Josep Borrell Fontelles, the Vice President of the European Commission, the political oversight of the programme.
Our mission is to promote the European Union's values, interests and smart power in the world and engage in open and frank dialogue with external partners by organising study visits to the European Institutions for young political leaders and opinion formers from outside of the EU. The EUVP aims to contribute to a stronger geopolitical EU by substantially increasing the EU's global outreach and impact, with particular attention on EU accession countries, neighbouring countries, strategic and main trading partners, continental democracies and interparliamentary assemblies.
Every year we welcome to the EU around 300 distinguished participants from every corner of the world, eager to listen, learn, engage, share and bring more profound knowledge about the EU to their countries.
The EUVP has existed since 1974 and is jointly managed by the European Parliament and the European Commission, with the EU Delegations (part of the European External Action Service) and the European Parliament Liaison Offices outside of the EU playing an essential role in the selection of visitors.
The EUVP's distinguished guests participate in comprehensive meetings, in-person or virtually, with a range of EU Institutions Members and officials – either individually or together with fellow EUVP visitors who share areas of interest or come from the same region. We believe this enriches the EUVP experience by broadening the subjects discussed and giving our esteemed visitors the opportunity to bond and exchange ideas.
We hope that our guests cherish fond memories of the time they spent with us and that they will support the EU values and policies globally, keep in touch, share their views on issues of mutual concern, and exchange best practices with us. We also hope that they will continue to play an active role in the network of EUVP Alumni, the network of the friends of Europe.
To facilitate this, the EUVP continues to boost its profile and become more available to its partners via Alumni engagement and an enhanced online presence: the EUVP website, a dedicated blog and a lively Facebook page. Moreover, the EUVP Alumni Platform allows former participants of the programme to build on all the connections they have made during their visit and create new ones with EU colleagues dedicated to bringing about political, economic, social and environmental change in the EU beyond.
Since its creation almost 50 years ago, the EUVP has brought us closer to each other, made us more aware of the issues of mutual concern, fostered partnerships and even friendships! All united in diversity!
We are looking forward to continuing this crucial mission, and we are inviting you to be part of it!