Rodrigo Yáñez Benítez
Chile
I believe we are at a crossroad - the world is going through
a very special and challenging time.
Biography
Since March 2018, Mr Rodrigo Yáñez served as Director General of International Economic Affairs in the Ministry of Foreign Affairs of Chile. He led an intense bilateral agenda of negotiations for new agreements and the modernization of older instruments. In that position he also had an active participation in multilateral trade forums such as APEC, Pacific Alliance, OECD, WTO, as well as his role as Sherpa in the G20, representing the interests of Chile.
Prior to his new position, in 2015 he worked as Director of Financial Advisory Services at Deloitte where he led the Business Intelligence and Anticorruption, Compliance & Regulatory Advisory service lines. He was ranked by Chambers & Partners Latin America 2018 as a Leading Practitioner in the field of Compliance.
Mr. Yáñez was also a member of the Panel on Public Works Concessions (2014-2018); Board Member of Chile's Public Enterprise System (2013-2014); and International Cooperation Agency Board (2012-2014).
During President Piñera's previous administration (2010-2014), Rodrigo Yáñez served as Senior Advisor on international and regulatory affairs to the Presidency of the Republic, where among his duties he developed foreign policy proposals and oversaw the implementation of domestic policy initiatives for different Ministries.
Mr. Yáñez holds a Law Degree from Pontificia Universidad Católica de Chile (PUC) and a Master of Science in Regulation from the London School of Economics and Political Science (LSE).
Image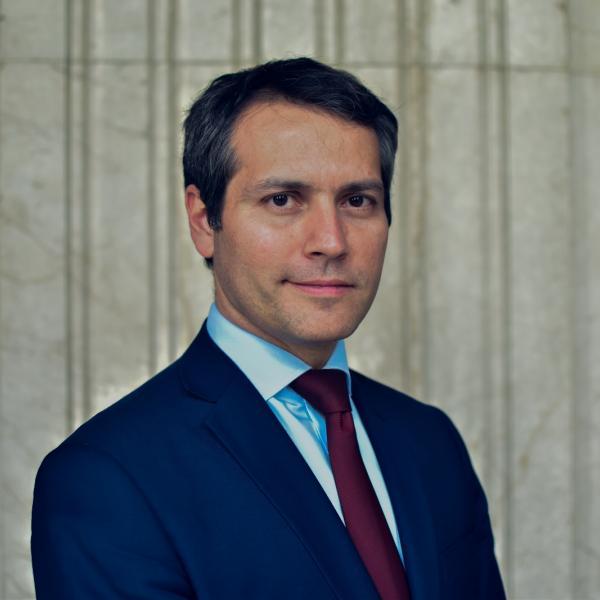 Speaker's Corner
My experience of the EUVP visit
I participated in the European Union Visitors' Programme back in 2009. It was many years ago, yet I continued working with the topics and the fields of interest that my EUVP visit was related to. At that time, I was unaware of the extent to which I was going to work with the EU in the years to come. For example, today we are running the modernisation process of the Association Agreement between Chile and the EU, the first in Latin America, which entered into force in 2003.
I would like to highlight the importance of a driven, focused programme like the EUVP as it helps to facilitate and inspire the push towards finding common solutions to global problems. To exchange points of views with officials in the area of foreign affairs was deeply rewarding. The experience was very useful for my professional life, and I acquired good memories of my visits to Brussels and Strasbourg. 
What is your greatest achievement as a government official?
As from the onset of the COVID-19 pandemic, we have been deeply involved in the state of affairs emergency in Chile. Chile has been very exposed to COVID-19 and we have been working hard to ease the effects of this unprecedented health crisis. In my role as Vice Minister for Trade I am responsible for negotiating with the pharmaceutical companies with a view to purchase COVID vaccines for Chile. This has been among one of the most remarkable achievements of my career.  The Government has succeeded in starting a massive vaccine programme: 8 million Chileans have already had their first jab as of April 2021. I think this is the best example of how trade policy can work towards the common good.
What would you say to global young leaders trying to change and shape communities for the better?
I would remark the importance of a connected global community, as well as keeping a global perspective of problems, this is key.
What inspired you to join the public service in Chile?
From the outset, I was driven by a curiosity for what happens in the wider world. Chile is like an island, but interdependent on its neighbours and on the outside world. The international vocation has always been something very close to my heart and I have followed my aspirations, both personally and professionally, to strive towards reaching my potential within the field of foreign affairs.
I have held many positions in the field of foreign policy, such as in my former role as a political advisor to congressional leaders in the Foreign Relations Committee in both the Chamber of Deputies and the Senate, where I was involved in various forms of foreign policy making, from global peacekeeping efforts to trade. Today, I am Vice Minister of Trade at the Ministry of Foreign Affairs of Chile.
What is the key to closer relations between Chile and the EU?
Chile has long-standing European roots through immigration and therefore a strong cultural tie with the continent. The way our political institutions have been shaped and our laws and constitution enshrined are deeply intertwined with the European tradition. This is a vital cultural asset, which should be further built upon in the years to come.
Today, the EU is our third trading partner, only behind the US and China. The important presence of the EU in Latin America shows us the necessity for its reposition in our continent. More Europe in LatinAmerica is something we could wish for, since we have common goals and policies that strive to achieve regarding climate change agenda, economic and social cooperation, sustainable development goals, cooperation on gender issues and the importance of multilateral rules-based trading systems.
In the context of our Association Agreement with the EU, which consists of three pillars: trade, political dialogue and cooperation, we are currently negotiating a modernised Agreement to address the political and global challenges of today. I believe we are at a crossroad; the world is going through a very special and challenging time, therefore this is necessary and highly welcomed.
Moreover, Chile is in the process of drafting a new Constitution, and the consideration of European experiences and thoughts will be important for the constituents during this process. As recently put forward in one of our main newspapers by Mr Josep Borrell, High Representative of the European Union for Foreign Affairs and Security Policy, the relevance of the EU in this process is not inconsiderable.
The interview took place on 12th February 2021
The opinions expressed by the EUVP distinguished Alumni on the Wall of Fame do not necessarily reflect the official EU position.