After my EUVP visit, I came back to Egypt inspired by new ideas that I wanted to realise, and with a handful of peers who I now call friends
Biography
Sahar Albazar is an Egyptian MP and the Deputy Chair of the Foreign Relations Committee at the Egyptian House of Representatives. She is also the President of the Forum of Young Parliamentarians representing more than 170 countries. Before that, she was an advisor to the Minister of Social Solidarity and a Social protection consultant at the World Bank Group on youth employability in Egypt.
Ms Albazar holds a Master degree in Public Administration from the Kennedy School of Government, Harvard University, Cambridge, MA and a Bachelor degree in Business Administration from the Faculty of Commerce, Ain Shams University, Cairo.
 
Image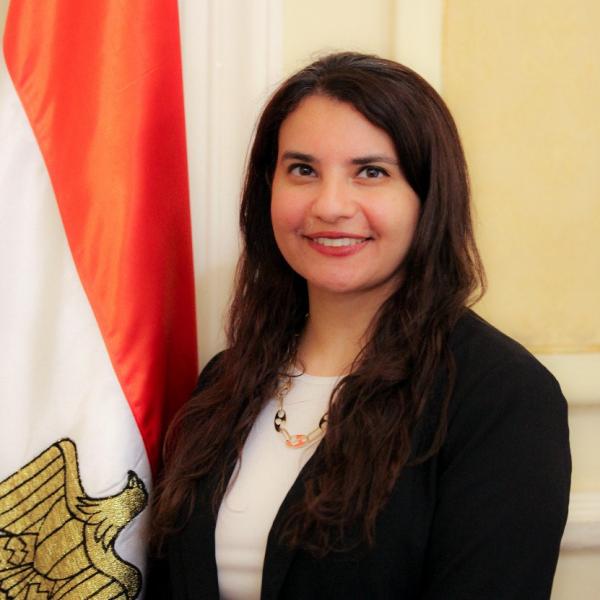 Speaker's corner
Can you describe and evaluate the experience of your EUVP visit?
EUVP is one of the most unique exchange programs because it is customized and tailored to the profile of the visitor. When I joined the EU Visitors' Program I was working as an Advisor to the Egyptian Minister of Social Solidarity whose work in particular dealt with working on youth employment, services offered to persons with disability and decent housing programs. 
The EUVP served me well by arranging meetings to share experiences with foundations specialized in services for persons with disability, as well as by making appointments with representatives of the Erasmus program to discuss the educational opportunities that can be offered to the Egyptian youth. Not to mention the interesting tours and visits to various EU entities and bodies that deepened my knowledge about the EU.
 
The significance of the EUVP experience for my career
I participated in the EU Visitors' Programme in 2019 and the experience still contributes  positively to my career. EUVP was not only excellent for its tailor-made program and the well-arranged appointments but also for building a new network. After my EUVP visit, I came back to Egypt inspired by new ideas that I wanted to realise, and with a handful of peers who I now call friends. For instance, I met an Egyptian young lady who I keep reaching out to whenever I want to have a productive and in depth policy discussion. I also met a Jordanian gentleman who works in the field of education and child development and with whom I recently got in touch to arrange our participation in an event with an international organization. I have also profited greatly from my network within the Egyptian EU Delegation office. 
Challenges in my current position as Member of Parliament
I became a Member of Parliament (MP) at the Egyptian House of Representatives during the COVID pandemic in 2020. I was subsequently elected the Deputy Chair of the Foreign Affairs Committee. Part of my role is to continuously be connected with my peers in foreign countries, which is quite challenging during the COVID-19 pandemic because of the various travel measures in place. I tend to compromise by conducting online meetings but it definitely cannot replace face to face interaction. 
I hope vaccination rates increase in all the countries so that we can return to normal pre-COVID travel measures. It will be a chance to create stronger bonds with my peers worldwide that leads to shared work. I believe that cross work in legislations between countries is vital to serve our planet, an example of which is illegal immigration or climate change.
 
Greatest achievements in my career
Generally, I consider serving people and having positive impact on societies as an achievement whatever my job title is. 
Currently, as an Egyptian Member of Parliament, I am honoured to participate in the new legislation for criminalizing Female Genital Mutilation (FGM) to protect young girls. I have also launched an initiative to have sidewalks in Egypt accessible for people with disability, in partnership with the private sector, civil society and the Government. 
I am the newly elected President of the Forum of Young Parliamentarians (IPU) representing more than 25.000 young MPs in 179 countries. We launched a campaign to promote the participation of youth in parliaments. We are proud to announce that we have 111 countries signed up and joining the campaign till now. 
 
My advice to young leaders trying to change and shape communities for the better
My advice would be to think of a career in public service only as a means to serve your fellow citizens and communities. The best public servants are those with the best motivation. They will be unselfish, willing to sacrifice and open-minded. I would also recommend starting as early as possible in volunteering with a public servant or with NGOs & NPOs to gain hands on experience that will help you understand the real needs of your communities. Always have clear objectives on what you want to achieve, stay persistent and always be prepared and hungry for growth. 
The interview took place in October 2021
The opinions expressed by the EUVP distinguished Alumni on the Wall of Fame do not necessarily reflect the official EU position.