Young leaders who are trying to shape societies for the better should never give up. They should remain focused and believe in their work, despite obstacles that they may encounter.
Biography
Sonja Tošković is a human rights lawyer and is holding a position of Executive Director of Belgrade Centre for Human Rights from 1st January 2018. She has 10 years of experience in monitoring human rights violations and advocating for improvement of the human rights protection system in Serbia. She is a member of the board of European Council on Refugees and Exiles (ECRE) for Southeast Europe, and author and editor of many publications and reports in the field of human rights.
Image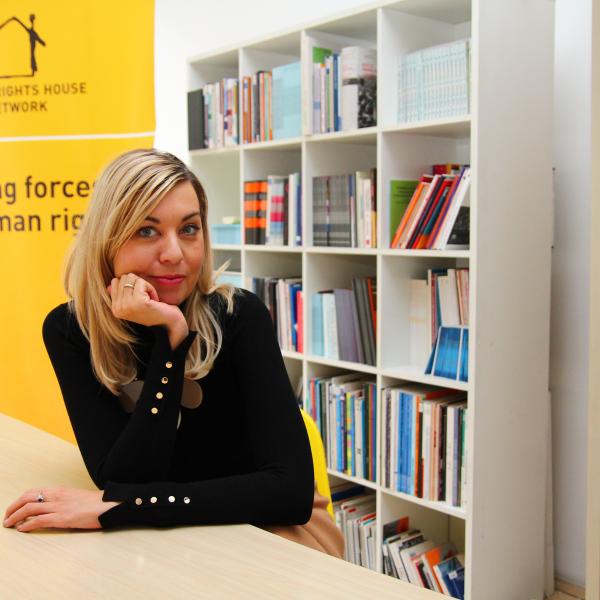 Speaker's Corner
What inspired your desire to work on behalf of furthering human rights?
I was studying law at the University in Belgrade, Serbia, and it was, as it all turned out, the Belgrade Centre for Human Rights that inspired me: following a 10-day intensive course on human rights in 2009, I realised this was the area of law I wanted to profess in! I am passionate about humanitarian work and international human rights - after eight years of working for the Belgrade Centre of Human Rights, I was promoted to become its Executive Director in 2018.
Can you describe and evaluate the experience of your EUVP visit?
The EUVP was really a great experience! What I particularly appreciated was to meet and make contacts with a great number of interlocutors in the EU Institutions, Members of the European Parliament (MEPs) and think tank experts within my field of work. Given my position as Executive Director in the Belgrade Centre for Human Rights, I had previously visited Brussels on several occasions, but during the EUVP visit I did meet new people with whom I have kept in contact and with whom we plan to do future projects together in the field of human rights. Another aspect of the EUVP visit that I appreciated highly, was the contact I made with fellow EUVP visitors from the Western Balkans who also did their EUVP visit in the same week. We also keep in contact and exchange views on the situation in the Western Balkans. Lastly, I found that the EUVP programme was well organized and quite varied, I became acquainted with new aspects of the functioning of the EU and got to learn EU Institutions that I had not previously been in touch with, like for example the Committee of the Regions.
What are the main current challenges to human rights that you wish to see overcome?
In the context of Serbia, there are currently numerous challenges in the field of human rights. The overall political, social and media situation does not make the work any easier for those NGOs who are watchdogs of human rights and rule of law and hence critical of the Serbian government. During the 2020 COVID pandemic the Serbian government, the Ministry of Finance, started investigation allegedly for suspicion of money laundering of 32 NGOs and 20 individuals, mainly human rights organisations, human rights activists, journalists, dealing with corruption, judiciary, rule of law, immigration and human rights. Until now we still do not know results of this investigation and which were the criteria for making the list of this NGOs and individuals. This alarming problem was also noted in the EU Serbia 2020 report in the context of EU Enlargement and the government list of individuals and NGOs subject to harassment have been brought to the attention of the UN.
How, if at all, did your experience with the EUVP contribute to your work?
The EUVP contributed a great deal to my work in particular to the contacts I made with colleagues across the region of the Western Balkans, but also as what regards the interlocutors I dealt with during my visit. Some MEPs I met I had known already but some were new to me. Such visits are crucial to Serbia's ongoing EU membership negotiations. After the program I continued to keep in contact with several MEPs. I also got acquainted with the work of the Committees in the Parliament such as AFET, Committee on Foreign Affairs, and FEMM, Committee on Gender Equality. We actually had a couple of workshops together with them in the pipeline, but then came the outbreak of the COVID pandemic that put a break on those projects. We will now have to wait until the pandemic is under control to pursue the work we had started.
What has been your greatest achievement as a human rights activist?
I have worked for many years as a human rights lawyer providing free legal aide to asylum seekers in Serbia. Refugees rely on you and really believe in you and your work. The greatest achievements are when you can see that you really help people and change their life situation, see real tangible results, even on a small scale. Even though the long term changes are not immediately visible, you recognize that it is another piece in a small puzzle, to achieve the rule of law and eventually justice. I would like, by the same token, to stress that the educational side is of no less importance, the Human Rights School that we organize since 1995,many others trainings and workshops, and the networks that we create are of crucial importance in achieving the goals that we strive for. The societal changes are reached incrementally.
What would you say to (EUVP and Global) young leaders trying to change and shape societies for the better?
What I would say to young leaders who are trying to shape societies for the better is that they should never give up. They should remain focused and believe in their work, despite obstacles that they may encounter. Our societies need you and each of you strive to change things to the better, to advance the opinion and political decisions. I would strongly encourage people to create networks with those of similar interests and similar fields of work, because only jointly we can make a difference! This counts as much within my field of human rights as well as in all other areas of where there is room for human improvement; the connectivity of people is key to success.
What is your regard upon the current state of affairs of Serbia - EU relations?
It is now more than a decade since the membership negotiations started with the EU. The pace of reforms is unfortunately and regretfully not at its best, far from that. Officially, the current government is pro-EU, however, no major reforms are currently implemented and progress seems to be stalled at chapters 23 and 24 concerning the independence of judiciary and the rule of law. I personally think we could move much faster, but no reforms are being implemented as they should and could as what concerns those two chapters. I am convinced EU membership is the only and right way to take, that it is the way ahead for Serbia. My question is what will happen with the Serbia and the EU ten years from now?
The interview took place on 3rd February 2021
The opinions expressed by the EUVP distinguished Alumni on the Wall of Fame do not necessarily reflect the official EU position.