EUVP Alumni Webinar: International partnerships for the European Green Deal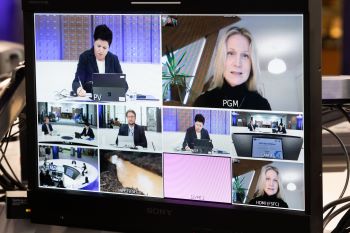 On 22 April, the European Union Visitors Programme (EUVP) held their first Alumni Webinar on International Partnerships for the European Green Deal with alumni from Canada, the United States and Brazil, to discuss global action on climate change.
Opening the event, Head of the European Commission's Service for Foreign Policy Instruments, Hilde Hardeman, also welcomed Acting Director of the European Commission in DG CLIMA, Elina Bardram and Director of the Members' Research Service in EPRS, Etienne Bassot.
Growing climate ambitions
Ms Hardeman explained that EU is one of the strongest advocates of climate action and green partnerships. The EU itself produces less than 10% of global greenhouse gas emissions and has set the objective to reach net zero emissions by 2050.
In the US, the Biden administration is determined to put climate action at the centre of its policies, both at home and internationally, with the target of reducing their greenhouse gas emissions up to 55% in 2030.
Canada also recently raised its climate ambitions and has set out seven key areas of focus, including federal benchmarks for pollution prices and investments in environmentally friendly products.
Showing global leadership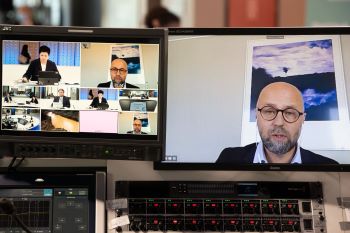 For the European Commission, Ms Bardram emphasised that the EU is ready to join forces with like-minded partners to enhance investments in renewable solutions and avoid redundant technologies.
In recent years, cooperation between countries on achieving ambitious plans have resulted in a growing understanding of the importance of climate action.
Director for International Energy and Economic Policy at the White House, Nicholas Sherman, and Executive Director for Partnerships and Outreach with the Covid-19 Task Force under the Canadian Department of Health and Public Health Agency, Sunny Uppal, identified the positive effect of showing leadership and leading by example.
The role of various stakeholders
Coordinator of value chain initiatives at the Instituto Socioambiental (ISA), Brazil, Jeferson Straatmann, emphasised the importance of fully taking stakeholders on board. Many businesses, NGOs, municipalities and mayors in Brazil are committed to reach new and greener production methods in Brazil, against the tendency of the Federal government.
Mr Uppal stressed that the business community should be perceived as an ally in the global fight against climate change, as corporate and social responsibility is growing in importance. "In order to work together," added Ms Bardram, "governments need to provide a viable  way forward for businesses, with a focus on predictability and long term planning".
Engaging with citizens
According to Mr Bassot, citizens are aware that also their lifestyle need to be modified. While agreeing, Mr Uppal suggested that our goals will be better achieved if there is a continuous dialogue with between citizens and governments.
Moreover, Ms Bardram and Mr Bassot underlined the importance of evidence and science-based policy making. "Governments have an intergenerational responsibility towards youngsters, as today we borrow money from the future to pay for the recovery", stated Ms Bardram.
Article written by Sandra Post, Communication and Outreach Unit, European Parliament
More information:
Watch the EUVP webinar
Visit EUVP Facebook page