EUVP Visit Story - Tanim Laila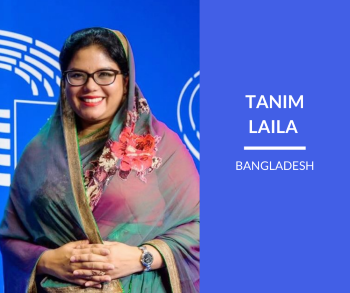 Are you considering applying for a EUVP visit? Ever wondered how EUVP programmes are organised and what their outcomes are? Follow the "EUVP visit stories", featuring unique reports and testimonials from those who have joined us at the heart of the EU!
It is with a great pleasure that we share with you today the "Visit Story" of Ms Tanim Laila from Bangladesh who participated in the EUVP programme back in March 2018. Ms Laila works for a telecom infrastructure management company edotco Bangladesh Ltd. Since Bangladesh's widespread access to technology has been possible through the telecommunications network, Ms Laila notes that it gives her great satisfaction to see that her services contribute towards creating access to technology for many. 
In addition, Ms Laila possesses over 15 years of volunteering experience in the field of women empowerment and training as well as entrepreneurship for persons with disability. Presently, she focuses her spare time on volunteering for creating opportunities for disadvantaged women and youth.
Reflections on my EUVP tour
I dream of a world where technology diminishes the barriers that separate us and enables every individual to fulfil his/her potential. I volunteer for programs that are focused on creating empowerment opportunities for persons with disability and women, especially those from disadvantaged background. My EUVP study tour focused on three themes – entrepreneurship, disability and empowerment of women.
The EUVP organizers were very helpful and set up a series of meetings for me with some Members of the European Parliament who were part of the Delegation for South Asia, Women's Rights & Gender Equality Committee, Policy Officers from the European Commission's Directorate-General for Education, Youth, Sport and Culture, and Directorate-General for Internal Market, Industry, Entrepreneurship and SMEs, and Members of the European Economic and Social Committee to name a few. A round table discussion on Nurturing Female Talent on occasion of International Women's Day was particularly interesting and insightful. 
The meetings gave me an opportunity to gain a high-level understanding on how the main EU institutions – the Parliament, the Council and the Commission function. It gave me insights on how policy consultations are conducted and directives passed. It was interesting to witness how the EU executes its vision of Unity through Diversity ensuring that the diversities in language, cultural identities, economic and other variables of the Member States are sustained while holding forth the principles of democracy, human rights, freedom of expression and peace. The visit to the House of European History was a unique journey into the past and how that has shaped the EU institutions over the years.
The EU has strong institutions to promote entrepreneurship adopting a three-pronged approach that involves entrepreneurial learning, nurturing a conducive environment and ecosystem as well as engagement of role models for bringing about a cultural shift towards entrepreneurship. We also believe the initiatives for promoting entrepreneurship such as mentoring programs and Women Innovators Award can be good stimulants for encouraging entrepreneurship as a career choice and encourage women to act on their bright business ideas.
The Erasmus program for youth education and youth engagements promotes exchange of knowledge, experiences and resources between EU Member States and some other countries. I was particularly drawn to the youth volunteering program. Such programs give young people an opportunity to gain experience in the professional and non-profit sector. It also sensitizes them about the needs of disadvantaged groups if the volunteering involves special needs services. It can also stimulate dreams among youth to become social entrepreneurs.
The attention to details on the part of the organizers was highly commendable. The list of meetings along with descriptions of the speakers and respective directorates helped me prepare better. The locations were clearly marked on the map and this made the walks to meeting sites enjoyable. To make things easier, the EUVP had also arranged for a special entrance badge to the European Parliament. Furthermore, they also kindly invited me and my fellow EUVP Participants for lunch with the EUVP Head on the first day of the program in the prestigious Parliament Building. This was an engaging interchange that set the tone for the rest of the tour.
The unique EUVP program gave me an opportunity to learn, explore and establish contacts as well as inform and showcase the developments in my country Bangladesh. I wish to convey my heartfelt gratitude to the Delegation of the European Union to Bangladesh for this unique opportunity and the esteemed EUVP organizers for putting together an engaging and highly relevant program.